Each month, the Scuba Diver test team assembles to rate and review a selection of dive equipment from a range of manufacturers. Products are split into price categories and are then evaluated for performance, comfort, ease of use, build quality, looks and value for money. The Test Team comprises Editor in Chief Mark Evans and a squad of volunteers, whose dive experience ranges from a couple of hundred dives to well over 6,000.
This issue, we look at primary scuba dive lights. A decent dive light is a must for any diver, whether you are a hardcore UK diver, an occasional holiday diver, or anywhere in-between. Dive lights are not just for 'night dives', they can be invaluable in a cave, cavern or shipwreck, and can also put some of the color back into an underwater scene on an overcast or dull day. They are also useful as a signaling device between buddy teams.
Our criteria for the test was a torch that is ideal for use as a primary light, that is, your main source of illumination on a dive. It could be battery or rechargeable – although in this case they are all rechargeable – but must be hand-held, no umbilical units. We looked at the build quality, ease of use (how to turn on/off while wearing thick gloves, etc), type of beam (spot or wide/flood), burn time, accessories and size.
The continued development of LED lighting technology has seen diving torches come on leaps and bounds, and it is astounding the power developed by some compact units these days – in the past, you have been carrying a monster torch around for a similar sort of output.
Anchor Dive Lights Series 3K 20-degree Spot Diving Torch (MSRP: $442 – $475)
Anchor Dive Lights are an Ireland-based company that is earning high acclaim in the world of dive lights. The Series 3K is one of their staple products, and the 20-degree Spot version here, as the name suggests, produces a tightly focused, bright beam which still provides a reasonable spread, and has some peripheral light that illuminates around the main beam.
This aircraft-grade anodized aluminum housed light pumps out 3,000 lumen at full power, which gives a burn time of 70-80 minutes, but you get two-and-a-half hours at 50 percent power, and five hours at 25 percent power. It is simple to cycle through the different power settings by pressing the on/off button, which also features illumination to let you know the charge level of the battery.
Depth-rated to 100m, it is amazingly compact, and is swallowed in the palm of your hand. With its light weight – for a metal housing – and dinky size, it is ideal as a traveling diver's companion. Its power and brightness of beam means it is fantastic as a compact primary torch right here in UK waters – that beam just slices through even lousy visibility – but it would be phenomenal as a main dive torch abroad, I'd just knock it down to 50 percent power so you didn't scare everything off on a night dive!
The latest blue-anodized version has a couple of new features, in particular a 'warmer' light more suited to tropical night dives.
BigBlue TL3500 Dive Lighting (MSRP: $389)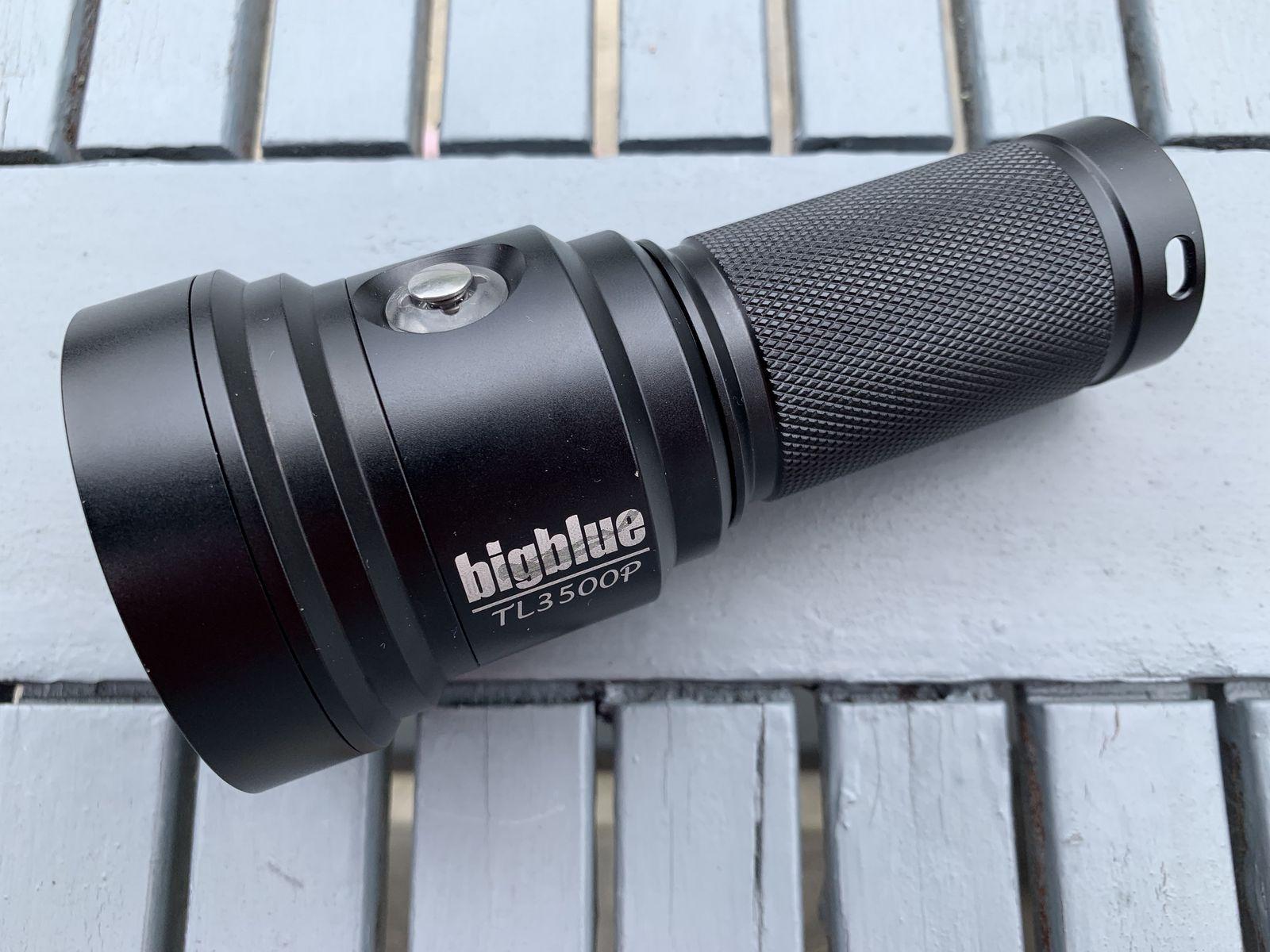 BigBlue have successfully carved out a niche for themselves in the competitive world of underwater lighting, and I am seeing many videographers utilizing their products now, as well as divers for general lighting purposes.
The TL3500 delivers – as the name suggests – 3,500 lumens at full power for one-and-a-half hours via its three ultra-high-intensity LEDs, and while much of this is concentrated in a ten-degree spot, there is also a wide peripherally beam as well. This makes it great for penetrating through floating detritus – as often encountered in UK waters – and also for signaling. The halo of peripheral light is also enough to illuminate wider surroundings without burning everything out.
There are four power settings – 100 percent, 50 percent, 25 percent and 10 percent, with the latter giving an awesome burn time of 15 hours! There is also an SOS setting. The push button is easy to operate even wearing thick gloves, and the color indicator – blue at full charge, green as the power drops, and red when nearing re-charge time – is handy too.
It is quite comfortable just held in your hand, but also comes with a lantern-style handle, and a soft Goodman handle.
DivePro D6 Dive Light (MSRP: $103)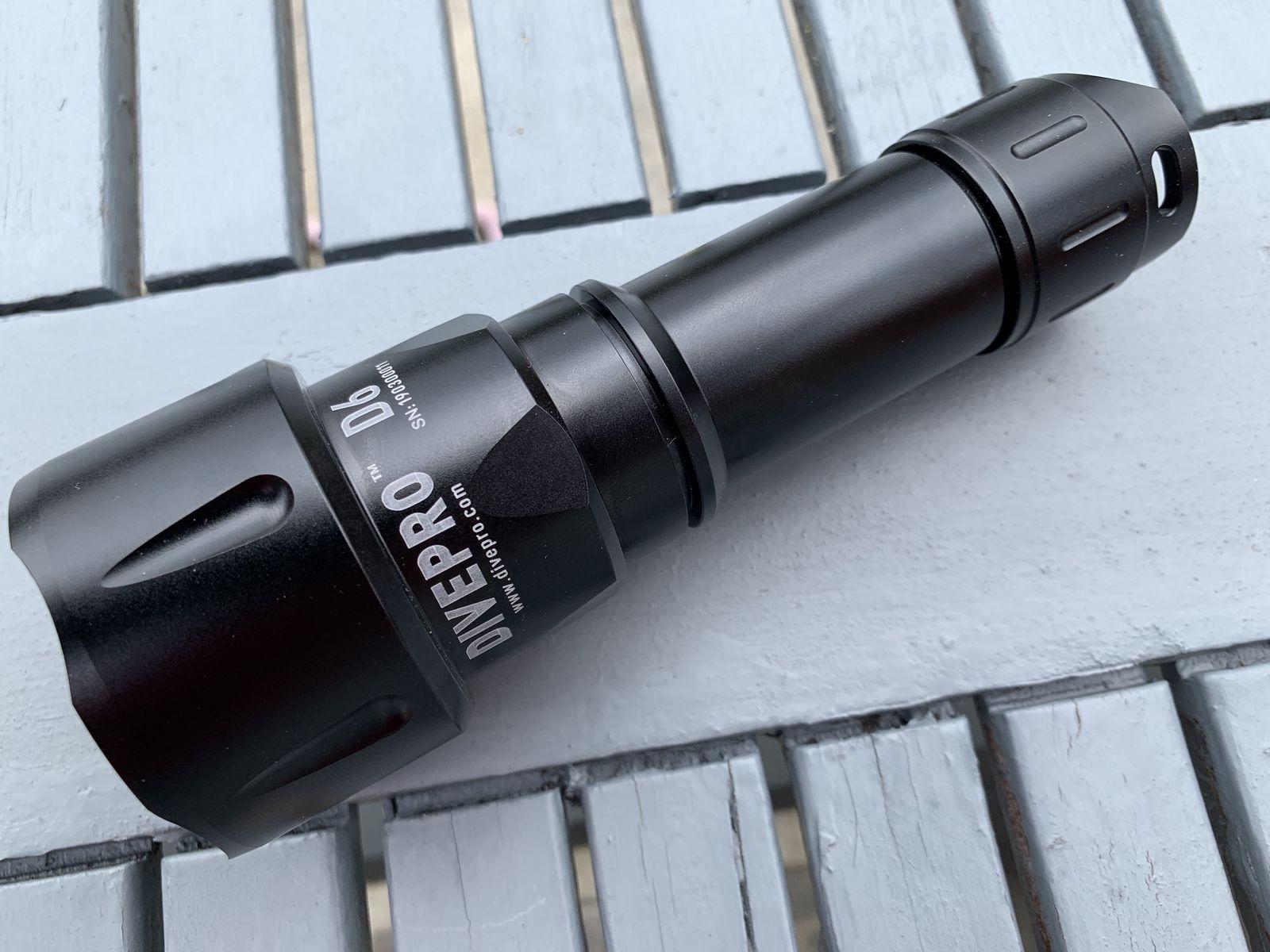 The DivePro D6 is made from aircraft-grade anodized aluminum and boasts a single CREE XM-L L2 LED pushing out 1,200 lumens into a tight, bright spot, with a light peripheral halo around it.
The D6 is turned on and off with a twist of the hilt, which is easy to do even wearing gloves. However, by turning it on and off within two seconds, you can cycle through high and low power settings, and an SOS mode, which is pretty neat. You get a burn time of four hours on full power, and eight hours on low power. Even low power, approximately 500 lumens, is quite bright.
The small nature of the D6, along with its relatively low weight (for an all metal housing) means it is a good option as a primary light for use abroad, as it won't eat up too much luggage allowance.
I personally would happily use the D6 as a primary light diving in the cooler regions of the Atlantic, as that narrow spot beam slices through the gloom (great for signaling, too), but it would also make a superior back-up torch due to its size. It would excel in tropical waters, though, as a main diving torch.
Finally, let's touch on that stunning price point. Under $103 USD for a metal-bodied rechargeable torch of this quality is fantastic value for money.
Exposure Marine Action 3-20 Dive Light (MSRP: $452)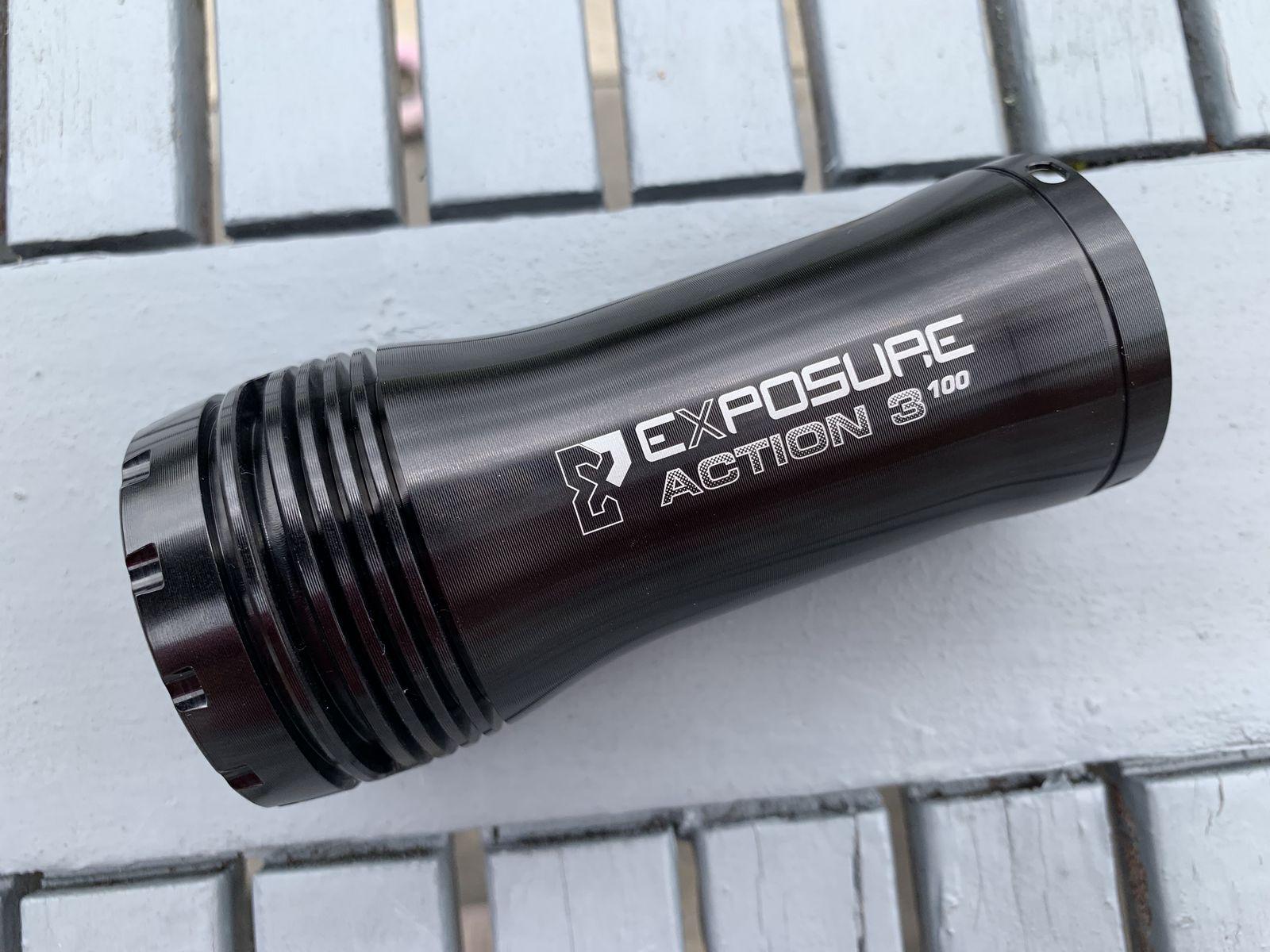 Exposure Marine turned the dive light market on its head a few years back with their innovative LED lights, which were incredibly bright and compact. However, the method of turning them on/off and cycling through power settings – which involved rotating the torch – left some divers bemused. The new versions have all of the positives of the previous incarnation, and none of the negatives.
The anodized aluminum, rechargeable Action 3-20 has three White XPL2 LEDs, which deliver 1,800 lumens on full power, for a runtime of two hours. Medium power gives you four hours, and low power eight hours.
Gone is the old method of turning it on and off, instead you now have a more-traditional and user-friendly push button on the bottom. However, uniquely, there is an OLED display which shows the remaining runtime at that power setting in hours and minutes.
The clever engineers at Exposure Marine couldn't help themselves, though, and so this light also has a 'tap' function, where you can cycle through the power levels simply by tapping the light itself.
For a small unit, the 3-20 puts out a very bright, even white light, and it sits in a soft Goodman handle on the back of your hand.
Finnsub 3600 Short Dive Light (MSRP: $923)
Finnish-brand Finnsub offer a wide range of dive lights, but the 3,600 Short is perhaps one of its more-popular units. The head has three CREE XM-L LEDs putting out a focused ten degree beam, which at full power of 3,600 lumens – the name kind of gave that away! – is incredibly bright and cuts through dark turbid waters, and is more akin to some umbilical lights. This full-power mode has a burn time of one hour, but knock it down to half power of 1,800 lumens, you get two hours, and this is still very bright. Drop it to the third 'safety' power setting of 360 lumens and you get a burn time of 12 hours, plus you can use it topside without damaging the torch.
To cycle through the power settings, you just turn the magnetic ring on the head – the first twist puts it in safety mode, and then clockwise goes brighter, and counter-clockwise reverses the procedure.
It has an anodized aluminum body and comes with an anatomic Goodman handle that allows the torch to sit comfortably on the back of your hand.
It is one of the heavier and more-expensive units in this test, but it also produces the most lumens.
Mares EOS 20RZ Dive Light (MSRP: $343)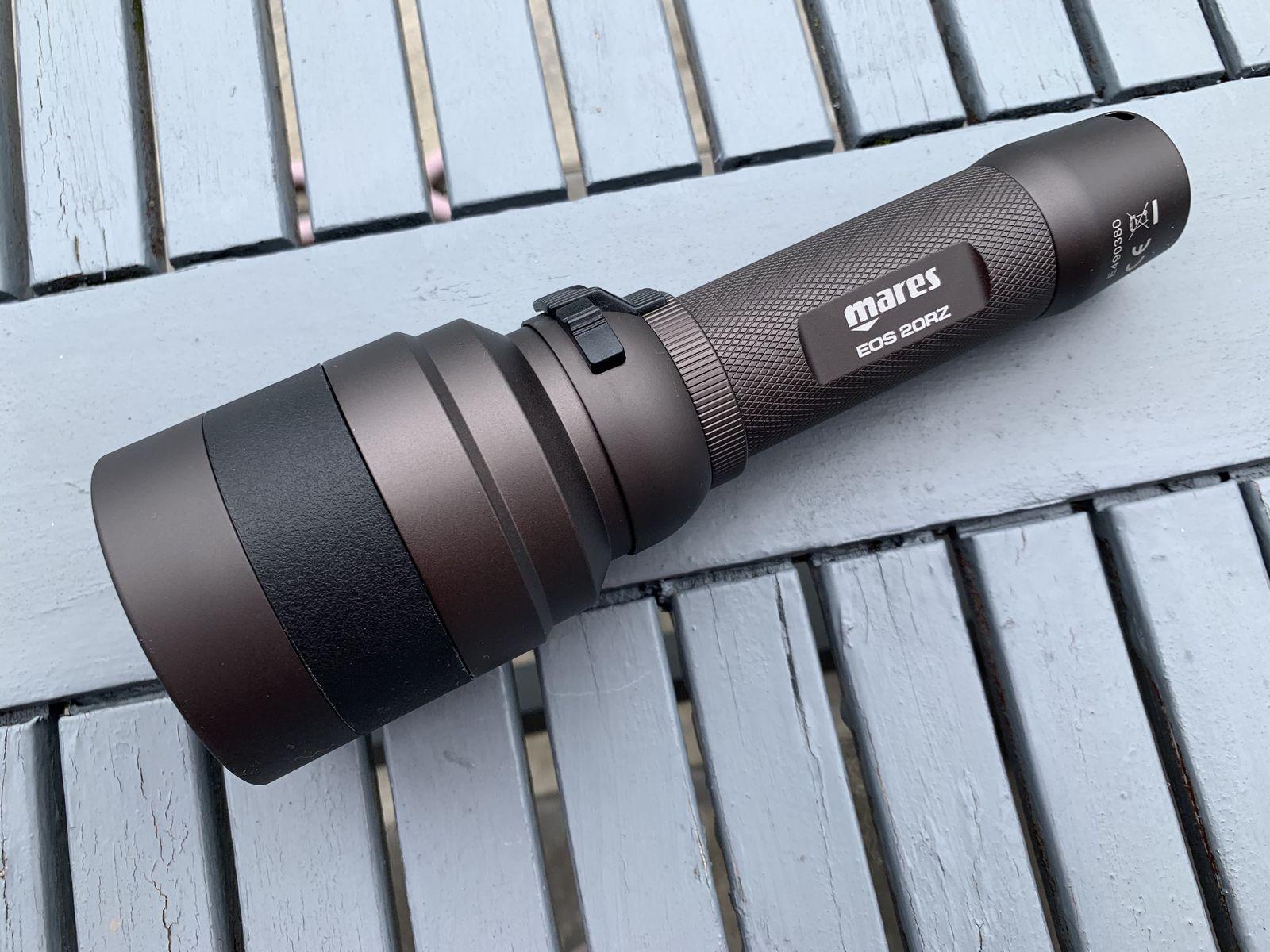 Mares have produced a strong line-up of dive lights with the EOS RZ range, and the EOS 20RZ is the top of the line, but it doesn't have a ridiculous price point, coming in at $343 USD.
It is one of the larger units in this review, and it weighs in at 594g, but even then, it is no beast, comfortably sitting in your hand. Part of the reason for the weight is the enlarged front of the light, which offers a nifty zoom function – twist that chunky head and you can alter the beam from a tight, bright 11 degree spot to a wide 75 degree flood, which still retains an even spread. A narrower beam penetrates well in lower vis, and the wider beam can light up a wide area when things are clearer.
The three CREE XP-L LEDs put out 2,300 lumens at full power, and it has three settings – high (100 minute burn time), low (three-hour burn time) and SOS mode.
It is depth-rated to 120m, and recharges by simply unscrewing the end cap and then plugging in a cable to your laptop or a wall socket (via a mains/USB plug).
To turn the 20RZ on and off is easy – you just slide the locking mechanism across and thumb the slide switch forward. Ever push forward cycles through the settings.
Scuba Diver Verdict
Diving torches are an essential piece of a diver's kit arsenal, and all the lights here performed admirably, which made dishing out the awards incredibly hard.
For the Best Value, the DivePro D6 and the Mares EOS 20RZ went head to head. The DivePro is incredible value for money, but while I would be happy using it as a primary over here, it is perhaps best suited as a superior back-up light thanks to its size and bargain price. The Mares represents great value for the performance and build quality, and we really liked the zoom ability to switch between spot and flood beam 'on the fly'.
The Choice award was even more difficult. The Exposure Marine, Anchor Dive Lights, Finnsub and BigBlue were all contenders. They all put in a superb performance, and we liked the Exposure Marine's nifty OLED display, the Anchor Dive Light's modular nature and dinky size, and the Finnsub's robusy build quality and magnetic switch, but the BigBlue just edged ahead, a combination of being well made and having an epic power output, all for a stunning price.
Looking for a good drysuit? Check out our review of the Otter Ultralight Telescopic.